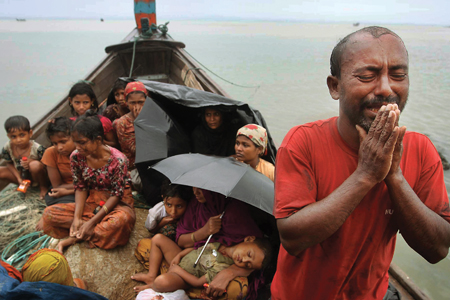 The Cries of the Royingya
Issue 100
From a legacy left by the Second World War, ethnic tensions in Burma have resulted in state sponsored persecution of minorities. Ali Khimji looks at the history behind the recent violence towards the Rohingya.
"One of the most persecuted minorities in the world" is how the UN describe the Rohingya, a group of Muslims from the Arakan region in Burma. The population is now around 800,000, as many have already fled: 300,000 are now living in Bangladesh; another 200,000 went to Pakistan; 100,000 are in Thailand; and 24,000 in Malaysia. The origin of their name, Rohingya, is heavily disputed. But one historian believes that it can be traced back to the eighth century, when Arabs shipwrecked near Ramree Island. The Arakense king ordered the Arab traders on board to be executed, but the traders began shouting 'Rahma!', which means mercy in Arabic. They were granted pardon, and were called the 'Raham'. Over time, this became 'Rhohang', and then Rohingya. If their name has been derived from the Arabic for mercy, then it is a great irony that mercy is what they have not been shown in recent times.
Burma has appeared in the news recently, as there has been growing communal tension between the Rohingya and the Rakhine Buddhists, another ethnic group in Arakan. The violence began in early June, when 10 Muslim men were killed, after a mob of angry Rakhine Buddhists attacked a bus in the Taungup district. This was in retaliation to allegations that three Muslim men, two of whom were from the Rohingya, raped a young Buddhist woman in late May, and the mob believed some of those men were on the bus. The three men were later arrested, but following Friday prayers, a group of Muslims gathered in the town of Maung Daw. The crowd started a riot and began to damage nearby buildings. The police came to calm the unrest, but the crowd dispersed and began to set fire to nearby Rakhine villages.
Share this


Link to this
Printer Friendly