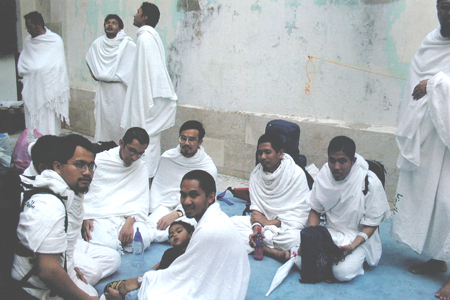 Welcome to Hajj
Issue 3 Jan / Feb 2004
Hajj expresses the universality of the spirit of Islam: pilgrims speak of how the Hajj experience encapsulates Islam's true beauty, since it is the one place where Muslims from every nation and every colour and every background gather together, uniting purely for the sake of God. Remona Aly asks those who have returned from Hajj for their experiences of the great pilgrimage.
Hajj is a journey of a lifetime to the holiest places in Islam, following in the footsteps of the great Prophet Abrahim. The pilgrimage attracts over three million Muslims each year and combines spiritual, mental and physical dimensions within a journey that cleanses pilgrims of past sins, allowing them to revive and renew their relationship with God.
20,000 British pilgrims are expected to perform the Hajj this year. In light of the large numbers of UK citizens undertaking this journey, the Foreign & Commonwealth Office (FCO), in partnership with the British Muslim community sends a Delegation to Saudi Arabia every year to provide medical, consular and pastoral support to British Hajjis. The Delegation is comprised of doctors, counselors and FCO staff, all of whom are members of the British Muslim community and who will be on hand to provide consular and medical assistance. Mockbul Ali, a FCO spokesman said, "I am delighted to support the British Hajj Delegation – A joint British Foreign & Commonwealth Office initiative. Every year the delegation provides consular and medical advice and support to the 20,000 or so British Muslim Hajjis. It is initiatives such as these which will strengthen the relationship between the FCO and the British Muslim Community."
Rehana Rehman came to Britain from Pakistan at the age of three. 32 years on, she now lives in Southend-on-Sea with her husband, Masuda Anwar and their two children, paving the way for their pilgrimage. Masud felt that being on Hajj distanced him from the social pressures he faced at home, and moved him closer to God and causing his faith to grow.
"Society today exposes you to so many materialistic pressures. Hajj helps you focus on more important things such as knowing that the time of your accountability is not that far away. A great help for me is to know that Hajj gives you a new beginning. You are not then worried by thinking of the past, but feel hopefully looking ahead to the future.
The experience of Hajj can be a testing time, especially amongst the crowds, but Masud never found it a test of his patience. "Thank God- I've always found myself to be a fairly laid0back, patient person. You prepare yourself with the knowledge that Hajj is going to be difficult."
Rehana, however, did not find patience came as easily for her. "I am not a patient person – the one thing you need in abundance to perform Hajj. There are many physical tests including shortage of sleep, food and personal space. I also found the heat to very testing. You have to understand that no matter how much people have tried to organize things, amongst so many people good organization is not feasible!"
Rehana and Masud witnessed the thousands upon thousands circling the Ka'ba and re-enacting the Hajj rituals, but feel it is almost impossible to capture the depth of the Hajj experience in words.
"It was a unique experience and difficult to describe. I think you need to do it yourself. Even though you are told by other people who have been for Hajj, it is hard to imagine people as far and wide as the eye can see".
The couple found Hajj the perfect time to concentrate on their Islam, and according to Rehana hope to return again one day. "My first reaction when I saw the Ka'ba was a sense of inner peace and calm, which I had not expected. I had been desperate to do Hajj for many years now and I look forward to returning to the Ka'ba as soon as life will allow and more importantly when God decides to invite me again to His House."
Hajj is often seen through the eyes of the participants, rarely from the organizer's perspective. A unique insight is provided by Abdelrahman Kamal El-Helbawi, Managing Director of Dome Tours International, a Hajj and 'Umrah tour operator based in London. 26 year old Abdelrahman was born in Saudi Arabia to Egyptian parents, brought up in Pakistan and studied in the UK and France. He is grateful for the opportunity to perform Hajj each year and as a guide feels it adds another dimension to the experience.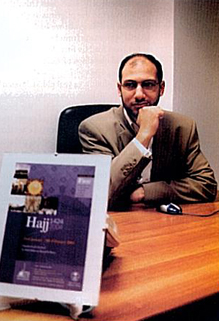 "Being responsible for the group makes me feel that I am performing Hajj not only for myself but for a large number of people. Last year, for example, our group was made up of 297 pilgrims and I felt I was performing Hajj 297 times as we were closely involved with every person. I found every ritual as special and spiritual as the previous time and even more so."
Abdelrahman makes his own personal preparations for Hajj and encourages those he is responsible for on the tour to do the same. "The day you make your intention and book for your Hajj is the day your Hajj starts. Before departing, I seek forgiveness from my relatives and friends and give my farewells as if it is the last time I will see them. We always advise brothers and sisters to get to know other people in the group as they will be in close company during the most challenging of moments."
Abdelrahman's hope is that all the people in his groups benefit as much as he does from the blessed pilgrimage. "when we find the pilgrims are happy after Hajj, we thank God that by His grace we had the opportunity to serve the people, who came from far away to a land chosen by God to be the base for His final Message. At this time the doors of mercy and blessings of Allah are wide open for His servants who answer His call."
Zulkifli Khair, a 34 year old Malaysian living in Manchester, travelled to Makkah in a group of 30 Malaysian students and professionals from Britain. "We became very close even though the majority of us had never met each other before. I found travelling with others is better than travelling alone."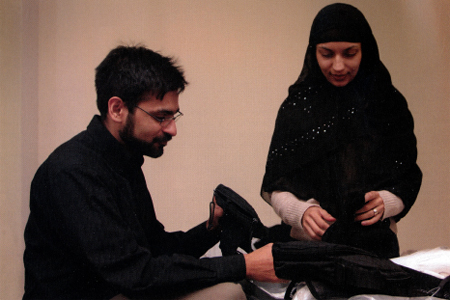 Zulkifli was very serious in his physical and spiritual preparations for Hajj. "After the end of Ramadan I used to force myself to walk to the mosque instead of taking the car. I attended a few crash courses on Hajj, read several books, entered into discussions with people who had been before and consulted scholars so that I would gain more understanding. My build-up to Hajj was equivalent to studying for a diploma!"
Hajj was an intensely physical experience for Zulkifli. On average he managed four and half hours sleep a day, and then he had to face the crowds streaming around the Ka'ba and endure the journey on foot to Mina where pilgrims reside in tents scattered in their thousands across the plain.
"It was very hot in the huge crowd on the way to Mina. I was really tired with lack of sleep. But then, as if God was responding to my murmur, a pacing old Arab man with his walking stick slung over his shoulder suddenly appeared out of nowhere and overtook me! That brought me up sharp and I carried on with fortitude."
Amongst the vast numbers, Zulkfili encountered diverse characters which made him truly appreciate the unity of the international community. "I met a military doctor from Pakistan, a retired lecturer from Algeria, a teacher from Afghanistan< a student from Senegal, an elderly man from China. It was a great and unique experience to be with millions of different Muslims. I have had the blessing of worshipping in the best places in the world and I hope and pray I may go again, God-willing."
27 year-old Zareen Mannan will be performing Hajj in February 2004. She is looking forward to undertaking a spiritual journey far removed from the realities of her life in Coventry and is particularly grateful for the opportunity to share this seminal moment with the people she holds dearest: she will be accompanied by her husband, his parents and her own parents.
"There are many words that best describe my anticipation of Hajj- hope, fear, closeness, kinship, sacrifice, spirituality, completeness, courage. These illustrate the myriad of emotions that I am experience."
Zareen's perception of Hajj when she was younger was that it was "a kind of distant aspiration locked deep in future intentions." As she explains, 'this was because I have known many Muslims to postpone their Hajj until their late years because they think it is something they should do when they are old. This was always strange to me but it was something I just accepted. It was only when I began to study Islam myself that I realized that for me, Hajj is the very thing I needed to sharpen my focus and remind me of what my life should be like now. It is not something I should wait to do when I am old."
For Zareen, it is as if she is hearing "a calling now to perform Hajj with my family. I hope I am able to appreciate its value and to absorb its profound intensity. "
Photography by Ruh al-Alam and Maeve Tomlinson
Share this


Link to this
Printer Friendly