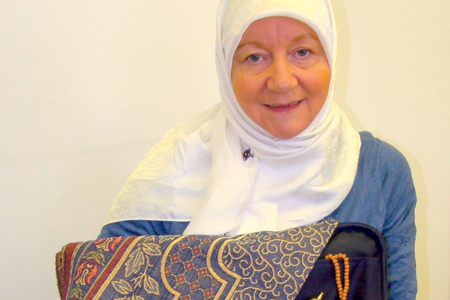 Fi Sabi-Lillah
Issue 59 August 2009
This means 'in the path of God' and pertains to anyone struggling for a righteous cause, including expenditure towards the promotion of Islam and for all charitable purposes.

The New Muslims Project strives in the path of God by providing support for those who are interested in or who have already embraced Islam; they fall within the category of 'fi sabi-lillah'.
The New Muslims Project was established in 1993. Through its newsletter, Meeting Point, regular contact is maintained with around 3,000 new Muslims. It is also sent to 145 prisons and young offenders institutions around the country. Residential Qur'anic Arabic courses are provided throughout the year to enable converts to gain a greater understanding of the Qur'an and Arabic. To meet practical needs, 'Shahadah' (declaration of faith) certification is available and gift packs have been widely distributed around the country for those who have just embraced the faith. Zakat contributes towards helping poor families celebrate Eid; provide help to lower income families, including single parents or purchasing equipment for the disabled.
Click the links below to read about each of the eight beneficiaries of Zakat.>
<Return to the main article: Zakat - The 8 Recipients
Share this


Link to this
Printer Friendly