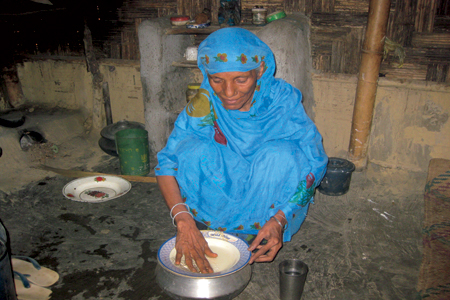 Ibn As-Sabil
Issue 59 August 2009
Traditionally, the wayfarers are travellers stranded in a foreign land in need of money. These people can receive zakat, if the purpose for travelling is lawful.
Wayfarers can today be interpreted as refugees or displaced people. Muslim Aid is one of the charities providing support to refugees like the Rohingya people.
Muslims of the Rohingya ethnic group, from Myanmar's western Arakan state, are amongst the world's most persecuted people. In 1992, 250,000 Rohingyas, a third of the population, fled over the border into Bangladesh to escape persecution. Fourteen years later more than 20,000 civilians are still in the same refugee camps and around 100,000 more are living illegally in the surrounding area.
Rehena, 60, left 10 years ago with her husband and two children to escape persecution, sharing a shelter with 14 people. The situation in the camps was so severe that Rehena had to resort to begging because food rations had run dry. Rehena is one of the several hundred women who received livelihood support from Muslim Aid in a project funded by ECHO. Since then she has set up her own business, selling wood for fuel, which is helping her become self-sufficient.
Click the links below to read about each of the eight beneficiaries of Zakat.>
<Return to the main article: Zakat - The 8 Recipients
Share this


Link to this
Printer Friendly